Please follow the steps below to configure the SAFR SCAN reader:
Hardware Setup
Connect the SAFR SCAN to a PoE network.
Wire the Wiegand output of the SAFR SCAN to the Wiegand port of the access control panel.
Configure SAFR Server
Configure the SAFR SCAN using the SAFR server software.
Configure UnityIS
Add a 56-bit card format to all controllers, that will be using a SAFR SCAN, with the following parameters:

Facility Code = -1
Format Function = 1- Wiegand
Bits on Card = 56
Credential # Bits = 56

Configure UnityIS to connect to the SAFR server from the System Settings page: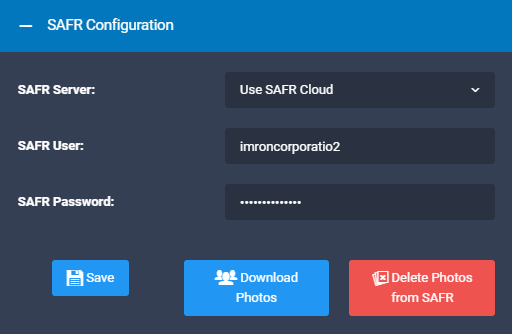 Once configured, click on Delete Photos from SAFR to remove any old images from all SAFR SCAN readers. This process will take about 25 seconds to complete. If your personnel records already have photos assigned, then click on the Download Photos command to load the new photos to all of the SAFR SCAN readers. If your personnel records do not have photos already assigned, then photos will automatically get downloaded to all SAFR SCAN readers as photos are assigned in Personnel Manager.